ASME SDC 2016
HK Students win 1-st runner up award in ASME SDC Finals
Newsletter:
http://www.polyu.edu.hk/me/en-US/Studentevents/detail/79
ASME Fellow Public Lecture
Topic: Technology & Sustainability
Speaker: Prof. Timothy W. Tong, President of HK Polytechnic University
Date: July 16. 2015
Time: 19:00 to 20:30
Venue: Lecture Theater Y302, Hong Kong Polytechnic University
Free Admission
Election Result Announcement - Section Officers for Sessions 201

5

/2016
Dear ASME-HK Members,
As Chair of ASME Hong Kong Section, I am pleased to announce the results of the election of Section Officers for Sessions 2015/2016. The New Elected Section Officers are:
Section Chair Ir. Prof. Ronald Chung
Section Vice Chair Ir. Thomas Cheong
Section Treasurer Ir. Leo Chan
Section Secretary Miss Kitty K.Y. Leung
Thanks for all members who casted their votes!
Regards
Chris Cheung
Section Chair
The Hong Kong Section of ASME International
Nominations to the Section Office for the year 2015-2016:
| | |
| --- | --- |
| For Section Chair | Ir. Prof Ronald Chung |
| For Section Vice Chair | Ir. Thomas Cheong |
| For Section Treasurer | Ir. Leo Chan |
| For Section Secretary | Miss Kitty K. Y. Leung |
ASME AGM 2014
Photos click the link below:
https://drive.google.com/folderview?id=0Bwsjk_wcoZIaVU9iYU1jY3NDbnM&usp=sharing
Young Inventor Competition 2014-Event Photos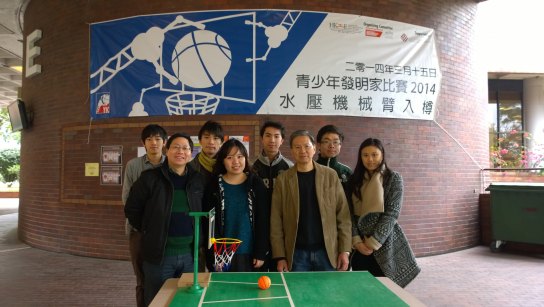 ASME Members in Hong Kong Excel in International Engineering Design Contest
We are happy to announce that three Mechanical Engineering students from the Hong Kong Polytechnic University had competed at the final round of the Student Design Competition organized by ASME. The competition involved to design, build and run a vehicle which can examine a radioactively-contaminated area within one minute. Amidst the heat of the competition, the team had won First Place in video submission.
Led by Academic Supervisor Ir. Lo Kok-keung, the team of three completed the design and prototype in three months. The team leader was Miss Ng Kar-yee, with team members Mr. Mak Tsz-kin and Mr. Ng Tin-long. The vehicle features highly sensitive and accurate camera which would allow the vehicle to accomplish tasks quickly. Through ingenious creativity and dedication, the team had won First Place in video submission. With this success, the Hong Kong Section team earned their place to compete this event for eleventh consecutive years.
The competition was held on 17 November 2013 in San Diego, California, USA. The Hong Kong Section team was to compete against 20 teams from universities around the world.