ASME Metallurgy Workshop
Date: 10th November 2017 (Friday)
Time: 09:30 - 17:30
Venue: Room 4A, CLP Sham Shui Po Centre, 215 Fuk Wa street, Sham Shui Po, Hong Kong
Quota: 50 (First-come-first-served)
Event Inquiry: Victor YU (6712 6250) or Kelvin SA (6836 7532)
Admission Fee: HKD $1,200 for public; HKD $1,000 for members of ASME, HKIE, IMechE
*Inclusive of a hard copy event booklet, light refreshments during breaks and lunch
Course Content:
Changes in Allowable Stress Values for Grade 91
Section I Modernization Using Damage Tolerance Design
Repairs of Advanced Materials
Payment:
The cheque/ bank draft (in Hong Kong Dollars) should be payable to "The Hong Kong Section of ASME International", and send to Dr Randolph Leung with this course registration form by the address below.
The Hong Kong Section of ASME International
c/o Ir Dr Randolph Leung
Department of Mechanical Engineering, The Hong Kong Polytechnic University
11 Yuk Choi Road, Kowloon, Hong Kong
A copy of the signed course registration form should be sent by email to Mr. Kent Choy at industrial@asmehk.org for enrollment before sending the cheque. A confirmation email will be sent
Transportation:
MTR - Tsuen Wan Line, alight at Sham Shui Po Station and walk for 5 minutes
Registration Form
(Google Form): Click Here
Flyer: PDF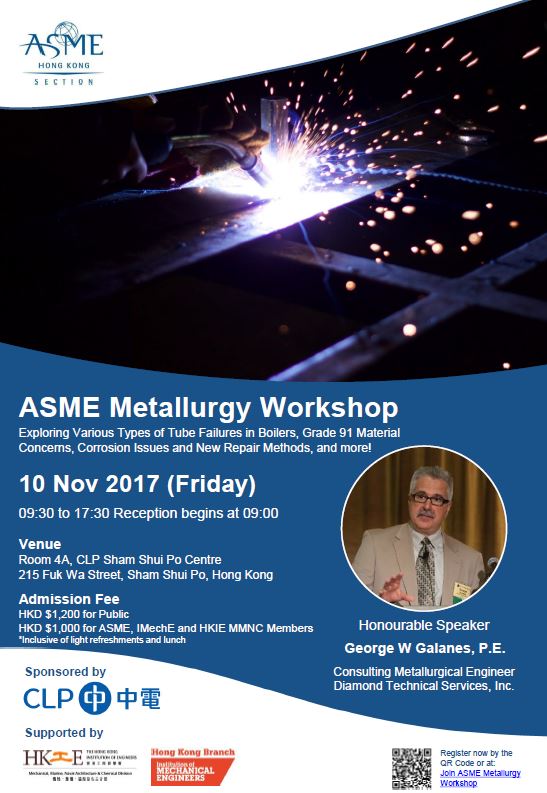 Certificate Course on Novel Technologies for Chillers (4, 11, 18 & 25 September 2017)
Co-organizers:
The Hong Kong Institution of Engineers -
Building Service Division
Environmental Division
Mechanical, Marine, Naval Architecture & Chemical Division
Supporting Organizations:
American Society of Heating, Refrigerating, and Air-Conditioning Engineers (ASHRAE-HKC)
Asian Institute of Intelligent Buildings (AIIB-HKB)
Chartered Institution of Building Services Engineers (CIBSE-HKB)
Institution of Mechanical Engineers (IMech-HKB)
The American Society of Mechanical Engineers (ASME-HKS)
Date, Time & Venue
Date: 4, 11, 18 & 25 September 2017
Time: 18:30-20:30
Venue: Class Rm. 1-3, InnoCentre, 72 Tat Chee Avenue, Kowloon Tong, Hong Kong
Programme Highlights
The coursed is designed to broaden knowledge of engineers in relation of chiller system and is useful for young engineers and practitioners who to refresh and acquire knowledge in the technologies, design, operation and maintenance of chiller system. All guest speakers will present you with some practical knowledge and experience sharing.
Language
Cantonese with English Terminology
Fee:
Normal Fee: HK$1,200 For Members (member of HKIE – BS /Env /MMNC Division & supporting organizations) ; HK$1,700 For Non-members
Early Bird before 14 Aug 2017: HK$960 For Members (member of HKIE – BS /Env /MMNC Division & supporting organizations) ; HK$1,360 For Non-members
Certificate
CPD Certificate will be issued to the participant after the course
Registration
Please send the completed registration form to International Conference Consultants Limited by email: seminar@icc.com.hk or fax: 2547 9528. Cheque for the correct amount of the course fee should be payable to "HKIE-MMNC Division" and sent to the following address by post:
International Conference Consultants Limited
Unit C-D, 17/F, Max Share Centre, 373 King's Road, North Point, HK
Registration Deadline:
28 August 2017
Enquiry:
Please contact Tommy Chan at Tel: 2559 9973 or email: seminar@icc.com.hk
More details and Registration Form: Click Here
6-Day Technical Visit to Shanxi
Dates:
14/9/2017 (Thursday) to 19/9/2017 (Tuesday)
Description:
Shanxi is considered the cradle of the Chinese civilization and has a rich history and cultural heritage. Shanxi Province covers an area of 156,700 square kilometers, accounting for 1.6 percent of China's total area. In 2012, Shanxi Province has 36.1083 million permanent residents, up by 175,500 persons. The province developed a mid-to-long-term plan for scientific and technological development, in 2012, with spending on R&D as a percentage of GDP up 1.17 percent. There are many technical factories and historical heritage place to visit in Shanxi.
ASME Hong Kong Section co-organizes with HKIE MMNC Division and IMechE Hong Kong Branch a 6-day technical visits to Shanxi, with the main objective of letting members in Hong Kong to explore more, connect and communicate with other engineers through technical visits in Shanxi.
Fee:
Enrolment Fee includes shared bedroom hotel accommodation, transportation and daily meals; additional HK$980 applies for single room occupancy
Members of ASME/HKIE-MMNC Division/IMechE: HK$5500
Non-Member: HK$6500
Please register online at
https://docs.google.com/forms/d/e/1FAIpQLSf-G3_6LLuN5gHFJ_YcmaRUeoRA6Ci8kUEDZhO4M555Tvh1Rg/viewform?c=0&w=1&includes_info_params=true
before 31/7/2017. (please also send your application information to industrial@asmehk.org)
Program Highlight:
• Assemble at MTR Lok Ma Chau Station, L1 Departure Paid Concourse on 14/9/2017
• Flight to Taiyuan Wusu International Airport from Shenzhen Bao'an International Airport
• Visit Baoyuan Old Vinegar Workshop
• Visit Shanxi Jin Huanguang Mining Equipment Co., Ltd.
• Visit Taiyuan Iron and Steel (Group) Co., Ltd.
• Visit Golden Rock Group
Flyer:
http://nearyou.imeche.org/docs/default-source/Hong-Kong/flyer-6.pdf?sfvrsn=0
Inquiry:
Ms. May Ting of IMechE on website
http://nearyou.imeche.org/near-you/north-east-asia/hong-kong/event-detail?id=13819